LOCATION
located in the seaholm district
paid street parking is available on electric drive and sandra muraida way; additional paid parking available in gable park garage and premier parking seaholm garage
HOURS
7am-7pm
7 days a week

HAPPY HOUR
mon-fri 4-7pm
sat + sun 12-3pm
CONTACT
COFFEE
espresso 3.5
americano 3.50
macchiato 4
cortado 4.25
cappuccino 4.50
latte 4.75
mocha 4.75
drip coffee 3.25/4
flash brew 4
nitro cold brew 5.50
vegan almond + rice horchata 6
dirty horchata 8
+ make it a double shot 2
TEA
hot tea 4
chai tea latte 4.75
matcha latte 5.75
iced hibiscus tea 4
jasmine tea latte 4.5
iced bergamot tea 4
london fog 5
ON TAP
draft nitro cold brew MKT
draft kombucha 5
HOUSEMADE SYRUPS
vanilla 1
chocolate 1
lavender 1

butterscotch 1

sugar-free vanilla syrup 1

cajeta 1
ALTERNATIVE MILKS
califia almond milk
pacific foods coconut milk
fronk's locally made nut milk
oatly oat milk
SMOOTHIES
seasonally-rotating flavors, always made fresh
peachy keen 8
peach, collagen, greek yogurt, oat milk, honey
green dream 8
avocado, spinach, pineapple, kiwi, almond butter, coconut water, spirulina, agave
HOUSE-MADE PASTRIES
chocolate chip cookie 3
seasonal vegan cookie 4
seasonal muffin 6
kouign amann 5
cinnamon roll 6
seasonal monkey bread 4
chocolate croissant 6
s'mores babka 6
GRAB + GO
matcha chia pudding 10

with cocoa nibs, shaved coconut, almonds
overnight oats 10

with berries, granola
green goddess elotes 7.50

with urfa, black lime, feta
mediterranean pack 18

with marinated mozzarella, grilled artichokes, ham + melon, eggplant tapenade
smoked salmon 16.50

with beets, arugula, fermented mustard, crème fraîche
whipped feta 12

with cucumbers, pita chips
watermelon + cucumber salad 12

with cashew, feta, hibiscus-lime vinaigrette
quinoa texas caviar bowl 10
vegan breakfast tacos MKT
from lick it up
BEER + CIDER + ETC.
ON TAP
austin beer works x mañana: hasta mañana lemon lager
ace pineapple cider

CANS
big country hard seltzer
adelbert's philosophizer ipa
community honey citrus
real ale hans pils
flying embers hard seltzer
flying embers hard kombucha
austin beerworks peacemaker
austin beerworks sun shovel
austin beerworks megaflora ipa
WINE
BY THE GLASS
southold farm + cellar don't forget to soar
southold farm + cellar forgotten dreams
BOTTLES
southold farm + cellar cup of ambition
southold farm + cellar don't forget to soar
southold farm + cellar forgotten dreams
southold farm + cellar forgone conclusion
populis macerated chardonnay
licorne mechange sparkling chenin blanc
maurizio ferrera solo barbera
rezabal txakoli white
rezabal txakoli rosé
domaine fichet white burgundy
NON-ALCOHOLIC
athletic run wild ipa
kin euphorics
de soi
HAPPY HOUR
half-off pours of cider + beer on tap and wine by the glass
+ monday-friday 4-7pm
+ saturday + sunday 12-3pm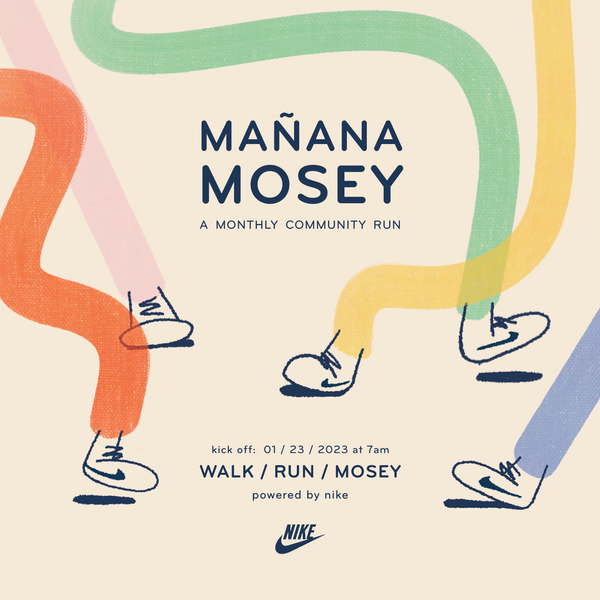 Mañana Mosey
Walk, run or mosey on over for the kick-off of Mañana Dos's new community run, powered by Nike. Join the crew at the Mañana downtown location before 7am, when the Nike team will lead neighbors + friends in a 5k group trail run.
The best treat after an early wake up call + jump starting your endorphins? Know that you'll be well rewarded after your run with free tacos from Mañana Dos, along with shoe trials + giveaways by Nike. All levels + running (or walking) speeds welcome.
Try it out + grab your friends to join in each month: future runs will take place on the first Monday of each month at 7am.
SCHEDULE
We will not be hosting a run in February, but meet us at our next run on Monday, March 6th at 7am!
A 4% employee support surcharge is added to dine-in bills to assist with the funding of our employee programs. 100% of these funds go towards employee benefits, wages, and programs. This surcharge can be removed by your server upon request.